Submitted by

Anonymous (not verified)

on April 9, 2016 - 10:07am
Sweet Adelines International chapters host a formal Open House once or twice per year.  Regardless of when visitors come to our rehearsals, they'll learn even more about a cappella barbershop singing and experience the fun of harmonizing when they attend an Open House event. 
Keep your eyes open for our next Open House.  In the meantime, we welcome visitors to all of our rehearsals. 
Contact us with any questions.  You can also find us on Meetup.
Submitted by

Anonymous (not verified)

on April 9, 2016 - 9:47am
In June 2015, it was acknowledged that we were the busiest barbershop chorus in Calgary, with 16 performances over the past 12 months.  Singing in the community is one of our favorite things to do and in particular, we work hard to put on a stellar show at the annual Calgary Stampede.  While we do a lot of singing for private functions, we hope to see you at one of our public performances in 2016.  Check out our events calendar!
Alberta Gold Chorus became a chartered member of Sweet Adelines International in 1984 and is known as, "The Little Chorus With Heart." We take great pride in the fact that we have been a part of Calgary's music scene since that time. We are singers of all ages at various levels of musical skill. We're young women, career women, and retirees, and we come together every Monday evening to rehearse, perform, socialize, and have fun.
Recent news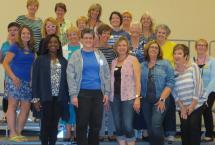 Sweet Adelines International chapters host a formal Open House once or twice per year.  Regardless of when... more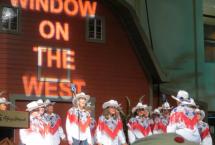 In June 2015, it was acknowledged that we were the busiest barbershop chorus in Calgary, with 16 performances... more